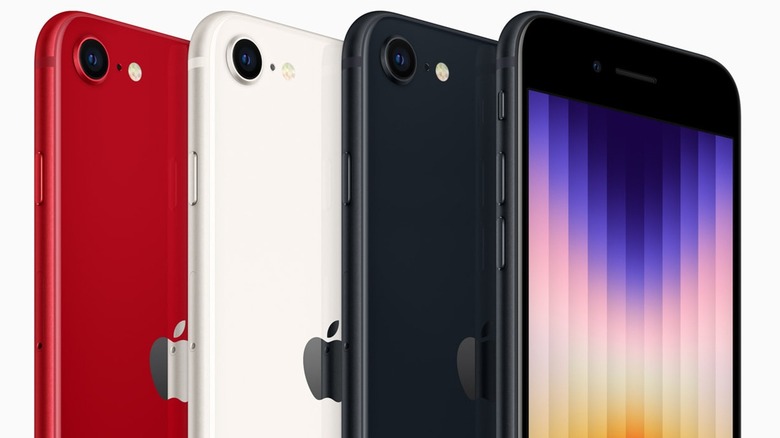 Apple
Amid the releases of green iPhone 13s, new, high-powered desktop Macs, and a refreshed iPad Air, Apple used its March 8 event to announce a new iPhone that may be its sleeper hit. The new iPhone SE 3 is Apple's cheapest iPhone, but it comes with a big performance boost that puts it on par with the rest of the iPhone lineup in terms of processing power. Where the flagship iPhone 13 lineup showcases Apple's latest hardware, dazzling consumers with multiple cameras and cutting edge displays, the SE 3 keeps things simple with a familiar design. It's a solid device that manages to win by not rocking the boat.
But just how good is the iPhone SE 3? Can it stack up against its bigger brother, the iPhone 13? And more importantly, which of the two should you buy if you're in the market for a new iPhone? To answer these questions, we've broken down the major differences between the iPhone 13 and SE 3, highlighting the relative strengths and weaknesses of each device so that you can make an informed purchasing decision that's right for you.
Design and display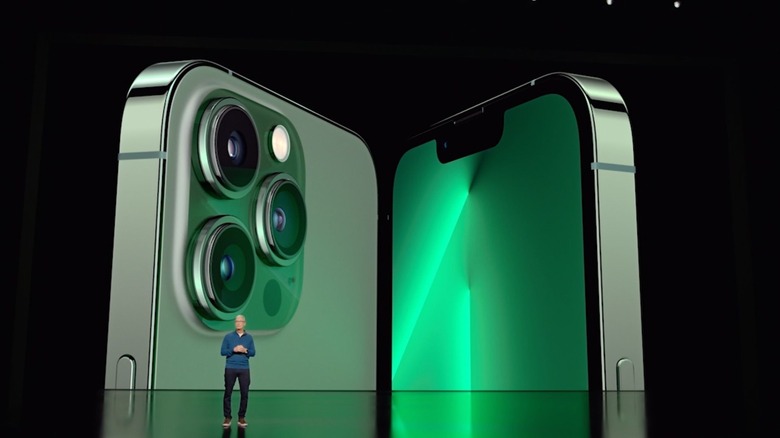 Apple
The most notable difference when comparing the two phones side-by-side is their design language and display. The iPhone 13 continues the industrial design Apple has been refining since the iPhone X, with a flattened front, back, and sides, interrupted only by the camera bump housing its two lenses. Meanwhile, the iPhone SE retains what is, for all intents and purposes, the body of an iPhone 8 from 2017. It's a decidedly old school design compared to the rest of Apple's current-gen lineup, even sporting the same huge bezels north and south of its display as that now-defunct model. The primary benefit offered by the SE 3's design is the Touch ID fingerprint scanner long gone from its bigger siblings in favor of Face ID and an edge-to-edge screen.
To house the 3D face scanner technology for Face ID, the iPhone 13 still boldly features the infamous notch cutting into the top of its gorgeous 5.4-inch Super Retina XDR display. Most folks have learned to stomach the protrusion by now, and once you ignore it, you'll find an HDR OLED screen delivering a pixel-dense 2340×1080 resolution. That's a significant leap over the SE 3's more modest 4.7-inch screen, which carries a lower resolution of 1334×750 on an IPS panel. Unfortunately, neither phone features a high refresh rate display. You'll have to go Pro for that. But ultimately, unless you really need a fingerprint scanner, the iPhone 13's design and display blow the SE 3 away.
Performance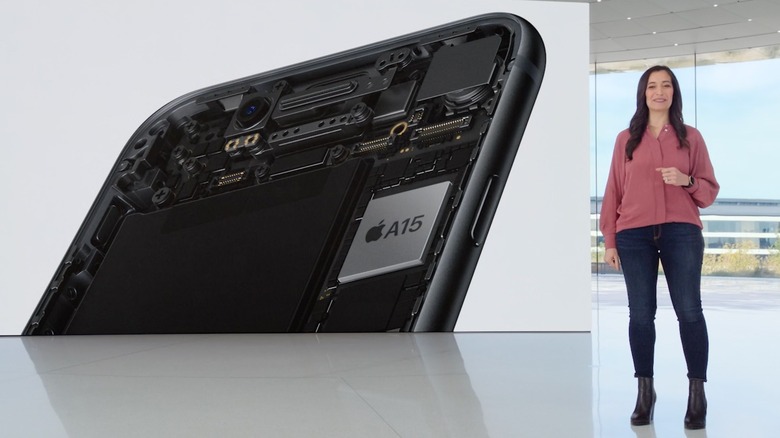 Apple
The iPhone SE 3 brings Apple's current generation of mobile silicon to its most budget-friendly iPhone, with the same A15 Bionic chip that powers the iPhone 13 now tucked inside. In theory, that means the SE 3 should have the same performance as the more expensive 13. The A15 chip is a benchmark shredder, and while the term "buttery smooth" is all too common an aphorism, there's really no better way to describe the lag-free experience we've seen on the iPhone 13 lineup. But consider the SE 3's smaller, lower-resolution display, which gives the SE 3 fewer pixels to push, as well as its more modest camera, and performance should be the least of your worries. This is quite frankly far more processing power than the iPhone SE 3 needs.
That's not to say the iPhone 13 is a slouch. As mentioned, it tears up pretty much any use case scenario you might think to throw at it with that same A15 chip. And while both phones offer 5G connectivity, the SE 3 is lacking the faster mmWave support. That's a minor gripe, since mmWave may not even be available in your area, and if it is you'll still need to be close to the connection point to make good use of it. Overall, we'll have to call it a draw between the two iPhones in terms of performance.
Camera capability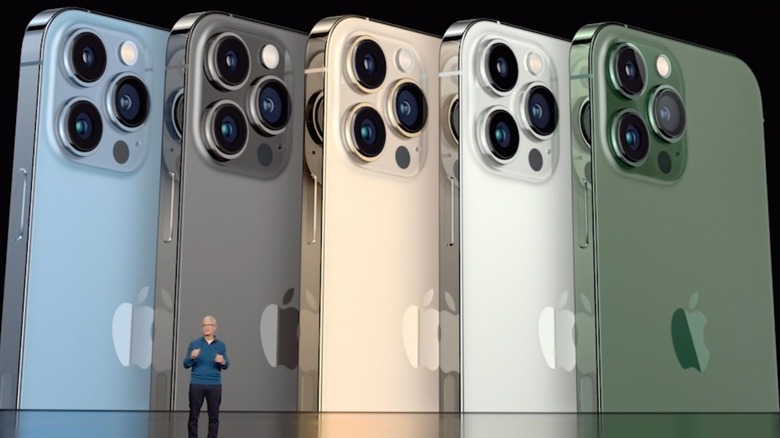 Apple
One of the major differences between the iPhone SE 3 and iPhone 13 can be found in the camera department. While the larger iPhone 13 boasts two 12-megapixel lenses, with an f/1.6mm wide main shooter alongside a 120-degree f/2.4 ultrawide, the new SE 3 retains a single 12 MP lens. It will certainly get the job done, and Apple is claiming the addition of the A15 Bionic chip enables better computational photography, but if you care about photographic versatility, you're better off with the iPhone 13, which our review found to be more than adequate for most shooting scenarios. (If you're the kind of shutterbug who wants the most camera possible in your pocket and are willing to pay for it, you're better off checking out Apple's higher-end iPhone 13 Pro and Pro Max.)
However capable the SE 3's single lens may be, the iPhone 13 is clearly rocking a better camera system. It comes equipped with a dedicated night mode, and when it comes to recording video, you'll get Apple's "cinematic" mode, HDR video, better optical image stabilization, and more. On the front of the devices, the difference is even wider, with the iPhone 13's True Tone camera sitting at 12 megapixels inside the infamous notch, while the SE 3 sports a more modest 7-megapixel sensor amid the vast expanse of its large upper bezel. Both phones should satisfy those who just want to shoot off a quick Instagram photo, but the edge unsurprisingly goes to the iPhone 13 here.
Battery and charging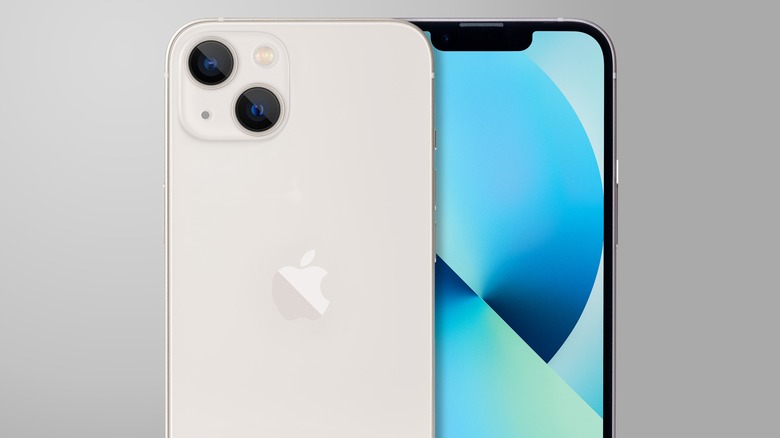 Yalcin Sonat/Shutterstock
Both the iPhone 13 and iPhone SE 3 feature a Lightning connector port for wired charging and the Qi standard for slower, wireless charging, though the iPhone 13 ups the ante with the inclusion of MagSafe, which allows users to attach compatible chargers and power banks with a circle of aligned magnets ensuring a perfect transfer of wireless juice. Both models boast fast wired charging capabilities with a 20-Watt or higher adapter. Of course, you won't find a charger of any kind included in the box with your new iPhone these days, no matter which one you buy.
The iPhone 13 packs a 3240 mAh cell in its svelte frame, which our review found to be decent, though some users have complained of battery drain issues. Apple does not release iPhone battery capacities, meaning we won't know how large the SE 3's juice box is until someone does a tear-down, but Apple is claiming up to 15 hours of local video playback compared to 17 hours for the iPhone 13. Even with the increased battery efficiency Apple promises about the A15 Bionic chip and the smaller power consumption required by the SE 3's smaller, lower-resolution display, it appears the iPhone 13 still takes home the trophy for battery life between the two.
Price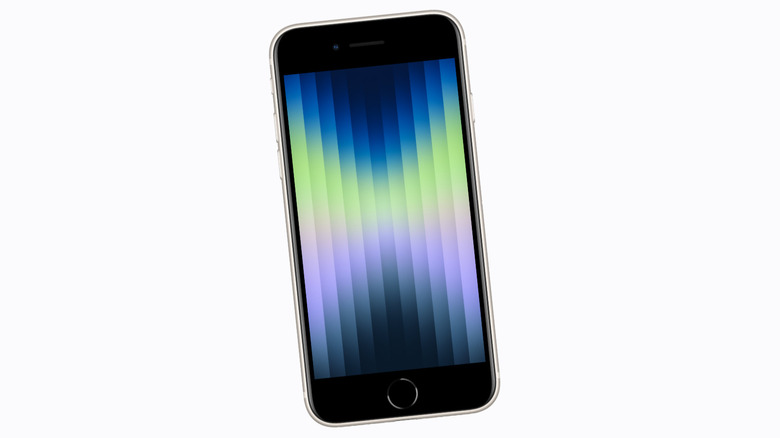 Apple
The iPhone SE 3's ace is its price tag, which starts at just $429 for the base 64GB model. That increases up to $579 for the highest capacity 256GB, but even then, you're paying a full $220 less than you'd have to fork over for the iPhone 13's entry-level 128GB option. The iPhone 13 smashes the thousand-dollar mark for its beefiest 512GB spec, coming in at an eye-watering $1099, which may understandably be a dealbreaker for some and prompts the question of how much phone you actually need.
For a certain stripe of consumer, the iPhone SE 3 is an unbeatable deal, and the fact that Apple is now making a third generation of these things means people are buying them. If you want an iPhone but don't care about having the best screen, the latest cameras, or a monster battery, well then Apple has made a phone just for you. If you want a phone with most of Apple's latest bells and whistles but the 13 Pro and Pro Max seem like too much, you'll probably want to spring for the iPhone 13.
Wrap-up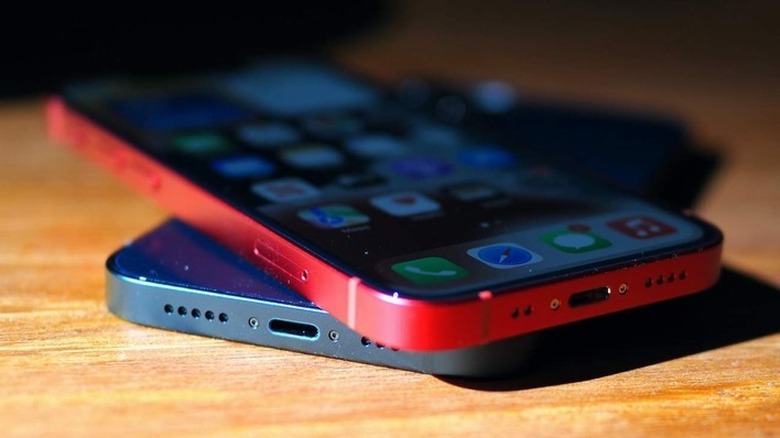 SlashGear
The iPhone 13 bests the SE 3 in every category except price and just barely ekes out a tie for performance. However, it's still a lot of phone for the price. If you're a budget-conscious consumer who wants the iPhone experience with the least damage to your wallet, the SE 3 is a great deal. You're getting Apple's latest mobile chipset in the A15 Bionic, coupled with a decent display and camera, 5G connectivity, and the latest version of iOS, all packed inside a familiar chassis design that has lasted since the iPhone 8. All of that starts at $429 for the base model with 64GB of storage. And if you find yourself wishing for a fingerprint reader every time you pull down your mask to unlock your phone, well, that's still here, too.
But if you need more camera, more screen, more battery life—just a bit more of everything, you'll probably want to skip the SE 3 and jump straight to the iPhone 13. With that said, it's fantastic to see Apple keeping its more budget-constrained customers in mind, allowing those who might otherwise jump ship to the Android world a way to stay on board. Good phones are getting cheap, and Apple is staying competitive by making sure its cheap phone stays good.